Youth Mission Trip England
Response from YWAM about the Youth
Jennifer Millard to John Peachey:
I do hope that your young people enjoyed their time with St Hughs. We really enjoyed meeting them. Many people at the festival mentioned what a delight they were to have around. We found them to be a great credit to their parents, their home church, and you. They were outstandingly willing to be helpful and be a blessing in any way that they could. They were willing to give anything a go - even when it was out of their comfort zone. It was a joy to work with them. Thank you for allowing them to come and be with us. Please convey our thanks to them and their leaders.

John Peachey to Jennifer: They had a great time and the Saturday outreach and Sunday youth service with St Hughs were real highlights during their time. Different ones shared this in their testimonies last night. They are all flying home now. I am copying this to their youth pastor, Ryan. They were a blessing everywhere including here at YWAM Harpenden!
Posted By:
mt
7/1/2011 11:12:01 AM
---

THEY'RE ON THEIR WAY HOME!
We have arrived at the airport safely now, and we are just waiting for our baggage. It feels awfully warm outside! Hopefully we'll be in the church parking lot in an hour.
ETA = 7 pm. Left the airport at 6 pm.
Posted By:
Sonia
6/29/2011 5:59:06 PM
---

Updated Arrival Time
British Airways
June 29, Wednesday
London Gatwick 12:25 pm (7:25 am Florida time)
Flight: BA 2167
Tampa 4:34 pm
Posted By:
mt
6/29/2011 4:03:42 PM
---

Fun, Free Day!
11:00 am (US)
Yesterday was our free day to go and check out the city of London. It started off like every other day by waking up for breakfast at 7, but we were rushed to catch the train. We were told that a normal trip to London took about 30 min, but our train took extra long because of some construction. Now this normally wouldn't have been a problem, but the other day was the second hottest day of the year, and the bus had no air conditioning; not to mention that the train was completely full, so our ride there wasn't as pleasant as planned; however this did not dampen our spirits at all. We had lots of fun running to and from connecting trains to reach our goal: London.

The first thing that we did in London was catch a red, double-decker bus for a tour of the city. We got to see all sorts of memorials and statues throughout the city. After a while we jumped off the train to watch the changing of the guards ceremony at Buckingham Palace. All in all the ceremony was very similar to our changing of the guards ceremony at the Tomb of the Unknown Soldier except for the fact that there was less talking. Our leaders then decided to give us some time to do some shopping, and sight seeing in small groups. My group had a lot of fun, and I got Andrew a bow tie, so if you're reading this and want to see what it looks like then you should definitely talk him into wearing it on Sunday. We than had to hurry to catch our boat tour that showed us cool places of Big Ben, London Bridge, and a lot of other cool places. We still had a while before it was time to go and eat, so we split up again to do a bit more shopping and sight seeing. My group ended up going into this old church, walked through the crypt, which I found really fun. Afterwards we headed to a small Ti restaurant where we got some good food. We headed off to another park where we got to see live street performers and shop some more. Basically today was a shop till you drop kind of day. It was finally time to head back home when we found out that our train home was cancelled! This is where we got to see God work through our everyday lives by providing us with a ride back home. Yesterday was our longest day yet! We headed out at 8:30 and arrived back at YWAM closer to midnight, but we really couldn't have asked for a more perfect day!

As many of you could imagine, it was hard to pull ourselves out of bed this morning for breakfast, but a good day always starts off with a good meal. After breakfast we headed over to the chapel for our daily meeting. Ryan lead a small devotional and got our schedule for today. Basically all we are doing today is cleaning, but a small group of us went over to a local cathedral where we toured. It was really beautiful, and in my opinion better then the National Cathedral. So far today has been dreary with small bursts of showers. Later tonight we are in charge of the evening service where we will be talking about how some of the things that impacted us the most these past couple of days. Your prayers will be greatly appreciated, and we'll see you soon.
Posted By:
Lindsay
6/28/2011 11:35:11 AM
---

Monday 6/27
6:32 pm (US)
Spent the day in London, everyone got back safely. We're very hot, sweaty and tired. More will come tomorrow!
Posted By:
Sonia
6/27/2011 6:35:08 PM
---

Sunday, 6/26
6:30 pm (US)
Breakfast was a little later this morning so we got to sleep in. Our breakfast crew got the pleasure of washing all the breakfast dishes by hand because the dish washer was broken. While we were cleaning up from breakfast the rest of our group had a time of praise & worship in the oval. Today was YWAM's 3rd annual neighborhood bbq. They had a bouncy castle, futbol (soccer), volleyball, face painting and of course awesome bbq food. it was a good experience because a lot of us got to play sports with the kids and get to know them better... I got to talk to some of the teens from a church that meets on base here and they were giving me lessons on the way they speak (rubbish = trash). They figured that they served around 250 people. After the bbq we took down the marquee (big white tent), put tables and chairs back in their places, and got ready to head out again. We went to a church that we helped at the carnival yesterday. It was their first youth service and so we went to support them. It was a different experience. The worship team was a little shaky at first but overall it really impacted our group. A lot of our youth were moved in the service and it really impacted me. At the end of the service they gave us ice cream and we were on our way. We came back to the base around 10pm and played a few games in the oval. Glenn's & Jon's bought us all pizza...which we devoured the second it got here. It's about 11:30 here now and we're all getting ready for bed. We're off to see London tomorrow and I'm stoked!
Posted By:
Andrew Mead
6/26/2011 6:38:32 PM
---

Friday & Saturday Activities
11:38 pm (England)
Friday: Well, yesterday it seemed like we walked 20 miles!!! Fortunately for us, it was actually only 8 to 10. But it was an adventure none the less. We all walked/ran to our train station to catch the train. Luton was our destination and we were all excited. We then split up into our groups for our prayer/Bible reading in the city of Luton. We spread out to cover a lot of Luton. We were able to talk to and pray for a few people in the area. After praying, we walked to a beautiful park and had lunch that involved lamb... Still deciding how that will end. With full stomachs, we walked for what seemed like FOREVER to a shopping area. On the way there, we walked through a heavily Muslim populated area. It was a good experience to be able to see the different cultures while in Luton. We walked back to the train and traveled home. When we got home we did our work projects and had dinner.

Saturday: Today we woke up and packed our wonderful lunches. We headed out to Luton and to our surprise we didn't have to walk!!!! There was a cultural festival where a church we were helping had a booth. We passed out blessing boxes, had a prayer tent, did face painting, balloon animals, prayer walks, and treasure hunting. For treasure hunting we went on the hill and prayed that God would tell us or give us a vision of a person we should talk to. A lot of us had some great experiences of talking to the people that God showed to us. Some of the people were an exact match to the people that God had directed us to through our visions. After the festival we came home and had a little break before dinner while the others in the group traveled back. We had to take turns loading and unloading between a 16 passenger bus and John and Susie's mini-van that held 7 people. John's blessed us with a great English dinner of "fish and chips." Tonight we also got to join in on an open mic. Some in our group got the opportunity to perform. Everyone did an awesome job. Made me proud to be a member of our youth group. Oh, and we were honored with watching the official YWAM band called Evergreen. They actually got to perform in the UK Battle of the Bands in which they placed the top 4. We also got to show the YWAM group how to crowd surf. Ryan and Seth led the way. So, with that, and the light just going out above me, I think we will call it a night. We miss you mom and dad! And Angie, we miss you too!
Posted By:
Abby & Amy
6/25/2011 6:55:34 PM
---

Thursday's Activities
Thursday, 4:20 pm (US) Today was another fun day. After eating breakfast we had another session with a speaker from Egypt. He taught us how to relate to Muslims, and they did a cool prayer over us. He had us stand up in a circle and he prayed over us because we are going into the town of Lultin tomorrow where we are going to be talking to Muslims. He also prayed in different languages. We prayed as a group for different events that are going on. After that we had a free time with some snacks of left over cake, coffee, & tea. We had another speaker come in to talk. This speaker, Yen, easily related to us. He taught us how to talk to people about Christ. He was an inspiration to all of us.

Some of the sponsors chose kids from our youth group to go to St. George, the nearby Christian school, just to talk and hang out with the kids. When we got there, we walked to the field where they have lunch and play games. It was a really good experience meeting new people.

Then, when we returned back at the Highfield Oval, we did our work projects for about an hour. The night was finished off by playing dodge ball and other fun games.
Posted By:
Brittany H & Jordan M
6/23/2011 4:21:08 PM
---

Wednesday Activities, June 22nd
Wednesday, 5:12 pm (US)
We started out this chilly, rainy morning with the usual 7:30 am breakfast, followed by a chapel service at 9:15. John continued speaking about the importance of our salvation, and he brought in one of his staff members, Jessica, to teach us how to develop and share our personal testimonies. Jessica's teaching was extremely helpful in helping us not only to recognize and develop our stories but to also communicate it effectively to others. She had us then break up into groups of two and share our testimonies with the other person. This was a great exercise to help us become more comfortable with sharing our testimonies with others. Jessica's message was a personal highlight of the day for me :) After Jessica shared, we had lunch, then broke up into our "practical service" (aka work) groups. Some groups mowed the lawns around the campus, others scraped paint off the window panes, while others cleaned the campus book shop. After our practical service projects, we all ate a Brazilian barbeque for dinner (it was, quite simply, delicious!). After dinner, we all divided up into teams (including some of the YWAM students) and played several rounds of ultimate frisbee. As the game progressed, it eventually morphed into a Brits vs. Americans match, but fortunately for everyone this match did not end the same way as the last big British versus Americans match :) We are currently wrapping up the evening with a rather intense/lively game of "Have You Ever?...." As you can imagine, things are getting interesting....on that note, good night everyone!
Posted By:
Erinn
6/22/2011 5:30:41 PM
---

Tuesday Activities 6/21/11
Good morning from England! It's 8:00 a.m. and we just finished breakfast. Yesterday was a good day. Each morning we have a meeting with John, and yesterday he had us break up into small groups. One of the group members was to be a seeker, the other a friend, & the other two in the group were Christians. We basically went over how to lead someone to the Lord. It was a great exercise for getting us out of our comfort zones. After that we did practical ministry around the campus which included painting a fence, scraping paint off old window frames and cleaning them, moving a bookstore, doing lawn work, & gardening. After lunch we had a meeting with Suzy, John's wife, & she split us up into our groups and sent us off going door to door inviting people to the barbeque we're having Sunday afternoon for the neighborhood. It was a bit awkward at first but after a few times everyone actually seemed to enjoy it. After dinner there was a DTS (Disciple Training School) graduation which we all attended, and we heard some exciting testimonies from some of the students about their mission work around the world, which brought us to the end of our day.

P.S It gets light here at 4:30 in the morning and doesn't get dark until 9:45!
Posted By:
Glenn & Sonia
6/24/2011 1:48:19 PM
---

Return Itinerary
British Airways
June 29, Wednesday
London Gatwick 12:25 pm (7:25 am Florida time)
Flight: BA 2167
Tampa 4:45 pm

The SCS bus will be picking them up and bringing them back to Bethel.
Posted By:
mt
6/24/2011 1:47:06 PM
---

Monday Activities
10:32 AM
Hello from Harpenden!! Yay! We finally made it! After hours of waiting in the Airport, trying to sleep in the "comfortable" plane seats, and then riding in vans, or if you were lucky by train, we arrived here in Harpenden, England. Now I am sitting outside in the beautiful England weather. I mean its 3 p.m. and I'm cold. Wow. We arrived at the YWAM base at about eleven a.m. yesterday feeling very tired. I didn't think it would bother me cause I'm normally hyper enough to fight any jet lag. Yeah I have definitely been proven wrong. John Peachy planned things for us to do all day long to simply keep us awake. These things included a tour of the base, being shown to our rooms, a walk down to the town park to play games. He would tell us things to talk about in small groups or always keep us moving so we wouldnt fall asleep. It was bad. John had asked the sport ministry leader Paul to be in charge of the games we would play. Games included cricket, american futbol, futbol, and frisbee. By the time we had our informative meeting at 7 p.m. last night Abby was acting a little weird, things were funnier then ever before, I couldn't keep my eyes and we were all excited for Melatonin. Who knows what happened after 8, we were all sleeping! Eleven hours later it was 7, time for breakfast. Accents are everywhere, not just English though. Also Nigeria, New Zealand, Ecuador and many more...k gotta go...we have an outreach ministry meeting!!
Posted By:
Keisha and Jami
6/21/2011 10:43:48 AM
---

We have arrived!
6:00 am
We have arrived in Harpenden 11:00 am London time. The flight was very good, PTL! Hope to send you pictures soon.
Posted By:
Sonia
6/24/2011 1:47:46 PM
---

At the Airport
6:45 PM Just about ready to board the plane.....please pray for our kids as some nerves and sickness have started to set in.
Posted By:
Ryan
6/19/2011 8:48:20 PM
---

Prayer Send Off
Gary Helmuth offers a prayer for the 51 Youth & Sponsors leaving today for England. That's a plane full of precious cargo!
Posted By:
mt
6/19/2011 2:32:24 PM
---

---
Costa Rica Work Team
Thursday, Feb. 11, Upala
The roof is on and we started the concrete floor. We hope to finish the floor tomorrow and do as much siding as we have material for. God is good and all is well.
Posted By:
Scott
2/11/2010 9:40:32 PM

Wednesday, Feb. 10
In case you need to get in touch with someone in Costa Rica, here is the new number that you can leave a text message on.

16174181469

Pic 1: Costa Rica
Pic 2: Teñideros
Pic 3: Upala

Posted By:
Scott
2/10/2010 7:18:07 PM

Tuesday
Finished the block today and set one wall. Tomorrow we will frame the rest. It was very hot today. Pray for the team and for safety and protection.

Pic 1: Iglesia de Upala
Pic 2: ESCUELA LIDER TEODORO PICADO-UPALA ALAJUELA
Pic 3: CUERPO DE BOMBEROS DE UPALA-ALAJUELA
Posted By:
Scott
2/10/2010 7:13:37 PM

Tuesday, Feb. 9th, Upala
We had a good first day of work. Poured the footing and laid some of the block. Showers will feel good. It was cloudy but hot.

Pic 1: Beach view of Costa Rica
Pic 2: Rio Celeste-Cerca del Volcan Tenorio
Pic 3: Lugar donde se ti
Posted By:
Scott
2/10/2010 7:20:57 PM

Monday, Feb. 8th
We are looking forward to mixing cement and laying blocks on Monday. Sunday was good. The food has been good and lots of it.

Picture #1 is a Costa Rican volcano
Picture #2 is Coffee plantation, Irazu volcano, Costa Rica.
Picture #3 is a typical Costa Rican beach.
Posted By:
Scott
2/9/2010 12:40:28 PM

Saturday, Feb. 6th Río Segundo, Costa Rica
We made it safely to Costa Rica. Continue to pray for us.

Picture #1 is the Airport Control Tower
Picture #2 is the Costa Rica Flag
Picture #3 is typical Costa Rican food.
Posted By:
Scott
2/9/2010 12:42:46 PM

Updates from Scott Kauffman
www.telestial.ekit.com
Travel journal (which is on the top menu bar)
View a friend's Travel Journal (at the bottom of the page)
16174315324 (the cell #)
Friend's name - Scott.Kauffman (Note: must have the . between the names)
FEPOTA (password)
Under "View Journal" click on MESSAGES to view what I sent or you can Send a Message

Updates will be reposted here as well.
Posted By:
MT
2/5/2010 12:29:58 PM

Itinerary
2/6 7:15 am Leave Tampa
11:45 am Arrive in San Jose

2/14 8:15 am Leave San Jose
2:45 pm Arrive in Tampa
Posted By:
MT
2/5/2010 12:17:03 PM

---
Beaver Camp Youth Mission Trip
Random
Some watch, some play, some work!
Posted By:
mt
6/21/2012 10:35:25 AM

More Pictures
Play Time
Posted By:
mt
6/21/2012 10:32:30 AM

Pictures
Work
Posted By:
mt
6/21/2012 10:30:22 AM

Pictures
Day 1 Work Day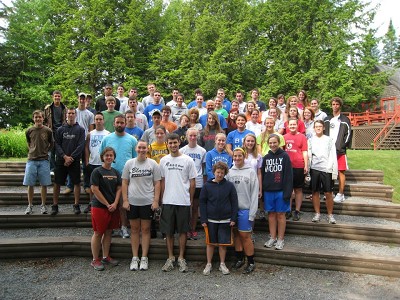 Posted By:
mt
6/21/2012 10:13:58 AM

They Arrived!!!
The bus pulled into camp around 10:30 pm Sunday evening. The group is tired; it was a long ride, 28 and a half hours!
Work teams began promptly this morning, hitting their first project.
Posted By:
Glenn
6/18/2012 11:10:02 AM